Our AllFlow Electronic Exhaust Bypass Valve (cutout) enhances the performance and sound of your exhaust. With the flip of a switch, it will open up the valve sending exhaust gases outward through the open valve. Our bypass valve kits use high quality polished stainless steel. This kit contains the needed installation materials: The piping, motor and switch.
Current runs directly through switch. Install with a fuse and use a relay for added protection. The switch has two open terminals - connect one to 12v positive and the other to ground. This is pre-wired as a current reversing switch, so which is positive does not matter. Operation is simple. Switch in neutral position (middle), no current flows to motor. Switch up, run motor in OPEN direction. Switch down, run motor in CLOSED direction.
Motor has over-current protection, and using this protection will not shorten the service life of the motor. Essentially the motor senses when the valve is in the fully open or fully closed position, and stops rotation. Therefore it is recommended to ignore the middle position of the switch, and just flip to CLOSED for normal mode and OPEN to bypass.
Solenoid is rated for high temperature and mounted in a way that enables a rating of 100,000 cycles. The rating on the motor is 4A at 14VDC. The rating on the switch is 8A at 14VDC. Therefore, in dual exhaust systems it is possible to install two wired to the same switch.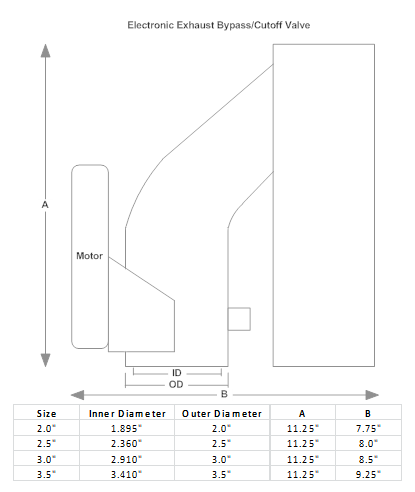 IMPORTANT.Removing the motor before performing any welding on this unit is necessary. Welding on the unit with the motor installed can result in premature or immediate failure of the motor due to the proximity and extremely high current used in certain types of welding.